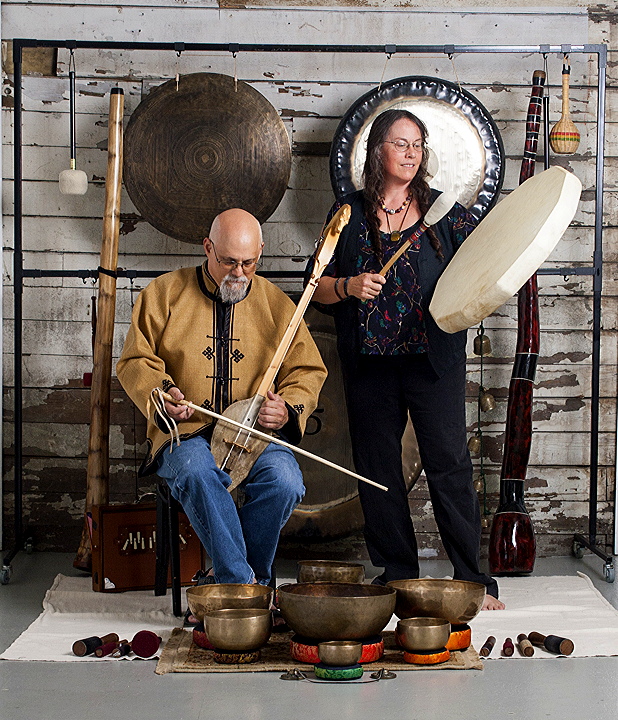 Photo by John Watson/Imagemaker Photographic Studio
Vancouver, BC
Music (performance, teaching, recording and writing)

Visual arts (drawing, painting, photography and design)

Education (workshops, lessons, school, corporate and other presentations)

Wellness Enhancement (sound-healing, qigong and meditation)

Importers and purveyors of fine Himalayan singing bowls and didgeridoos
Steve Sklar is a musician, vocalist, photographer and sound/energy/shamanic healer. A friend and student of the famed Tuvan ensemble Huun-Huur-Tu, he is the leading teacher and performer of Khoomei (Tuvan and Mongolian Throat-Singing) and Tibetan "low chordal" chanting voice outside of central Asia, and has taught around the world. In addition, Steve teaches didgeridoo both to musicians and sleep apnea patients. He also performs on guitar, didgeridoo, the igil (Tuvan horsehead fiddle), and many other exotic instruments.
Steve's sound healing approach incorporates the use of the voice/vocal harmonics, didgeridoo, and Himalayan metalophones (Himalayan singing bowls, gongs, tingshas, etc.). Steve has also recorded commercials for New Balance and Nissan, and contributed soundtrack vocal recordings for the Hollywood motion picture Boondocks Saints 2: All Saints Day.
Johnna Morrow is a musician, singer, songwriter, visual artist and energy healer. MP3.com declared her "Absolutely the most stunning Female Rock Vocalist you will ever hear!" and she's also a standout on flutes, acoustic guitar, didgeridoo, and other instruments. She is keenly interested in the creative process and how qigong and meditation open us to exploring our creative potential. Johnna has a BA in Studio Arts and over 15 yrs. of qigong training with Chinese and American masters. Other studies include music performance, dance, taiji, reiki, Alexander technique, yoga and shamanism.
Together, they have led, performed with and produced recordings by the ensembles Little Green Men, Big Sky, and the Overtone Orchestra, and collaborated with composer Christian Marcussen and igil player Gianni Pascuzzi on the soundtrack for the video/computer game Operation Flashpoint 2: Dragon Rising.
In July, 2010, Johnna and Steve won awards for "Best East-West Mix" at the Ustuu-Xuree World Music Festival in Chadaana, Tuva.
An ongoing project is the Worldwide Sleep Apnea-Didgeridoo Network, which launched in January, 2012. The network is designed to help educate and connect sleep apnea patients, clinics and care providers with didgeridoo instructors.
Performing at Sound-Journey Experience November, 2011
Poster, 2011
Poster, 2012