---
FUNDRAISER:
Steve and Johnna Require Surgery, and Steve has Heart Problems; Please Help with a Donation!
Updated March 29, 2015
Dear family, friends and fans,
Johnna and I are moved by the many loving, supportive and concerned responses we've received following our recent health-related news. Our hearts are filled with gratitude! We want to express our sincere appreciation and to share this update on our situation:
As it happens, we have some good news and some not-as-good news. While it's still hard to stand and walk, Johnna received an injection that has provided some temporary relief in her left hip, and is working through pre-op exercises to help assure an optimum outcome. She is scheduled for her total hip replacement surgery on May 5. She may also need repairs on her right hip and some spinal issues but this should be a good start.


Less welcome is that my shoulder replacement has been postponed: via my pre-op physical it was discovered that I have a serious, previously undiagnosed cardiac condition and it was too risky at this time. I've spent the last few weeks having endless tests and medical appointments: EKGs, echocardiograms, MRI, angiogram, and various blood tests, etc. So, we are working to correct that and improve my heart's functioning, and then hopefully before too long I can get my shoulder fixed. It's very frustrating, challenging….
The medications, combined with the greatly reduced heart function  (my heart is only pumping less than a third of its expected flow) leave me tired, chilled, and having some difficulty focusing. While this is all very challenging, we are grateful that I learned about this problem in this way.
Meanwhile, the longer the surgery is postponed I am losing more bone in my right shoulder, and function in my arm and hand, along with a substantial increase in pain. I recently received a cortisone injection but have yet to feel any temporary improvement.
So, that's where we are now. It's going to be a longer and tougher road back to health than we had originally anticipated. We are doing our best to shore up our spirits and maintain a positive outlook, and believe us that all of your kindness and support is a great help to us! To paraphrase The Beatles, "We are getting by with a little help from our friends!"
We are currently working on sending thank-yous to everyone who has offered assistance, and appreciate your patience. It's been a bit overwhelming, to say the least.
If you would like to help us out with a donation of any size, the easiest and quickest way to help is to please use this PayPal link:
Don't give 'til it hurts; just give 'til it feels good!
Or, you can send donations to:
Johnna and Steve
3427 N. Colfax Ave.
Minneapolis, MN 55412
Thanks, 


Steve Sklar
---
Dear friends and fans,
It's very difficult to share this, as we tend to favor privacy in our personal matters. However, we are reminded of times we've urged friends and loved ones to share their problems so that others might be allowed to "shine their love-light" on them. So, we suppose this also applies to us:
Johnna and Steve are facing a challenging situation. Following a couple tough years, both health-wise and financially, they now are both in need of major surgeries. Steve has lost most of the use of his right hand and arm, and is scheduled for a Total Shoulder Replacement on March 12,  and Johnna has a hard time standing and walking, and is in need of a Total Hip Replacement.
Naturally, these things don't develop overnight, and we've been dealing with considerable pain and loss of function for quite some time, which has had a growing negative impact on many aspects of our lives. We've both tried numerous other therapies, exercise and bodywork, but the damage has only gotten more severe. Treatment just can't wait any longer.
Fortunately, it appears that insurance will cover much of the medical bills, and for that we are most grateful. But we have already fallen behind paying our other bills, and are looking at a few months of recovery time. We haven't been able to gig in several months, and won't be able to resume for a while more. Similar restrictions also apply to most workshops, etc.
We've always tried our best to help others, whether via charitable fundraising, performing at benefits, gifting lessons, giving free-and-low cost treatments to those in need, and welcoming those unable to pay attending our Sound Healing Concerts. Now we are on the flip side and ask for your kind and generous assistance!
If you are able to help us out with a donation of any size, the easiest and quickest way to help is to please use the PayPal link below. Or, you can send donations to:
Johnna and Steve
3427 N. Colfax Ave.
Minneapolis, MN 55412
We are confident that we can "turn this ship around" and just need a helping hand to get through this. There are good things coming for us, some already in the works and we look forward to sharing them with you. We both express our sincerest, heartfelt gratitude to all our family, friends, fans, and supporters. We love and appreciate each and every one of you!
Sincerely,
Steve and Johnna
Don't give 'til it hurts; just give 'til it feels good!
---
---
Steve's popular, fun, and effective online Khoomei (Tuvan Throat-Singing) 

lessons are on sale

through March for $25/each or $55/three!

Unsolicited comments from people who attended recent Sound Healing Concerts:
"Energetic healing of body, mind, spirit and soul! Thank you for a fantastic creative journey through the dark( feminine, sacred, still voice within) vibration, only to rebirth as the light!"
"…It was fantastic, I felt all my airbodies in my head and body too and all my blocks as well, quite an experience, loved it, all these other dimensional sounds, just divine…"
"It was just THE BEST! Have already blocked out my calendar for the next show and am wanting a poster to put up at work. An evening no one should miss!"
"Amazing. Mind-blowing! I'd go again."
"Quite an amazing experience. Too wonderful for words."
"Thanks to BOTH of you for an amazing and elevating sound experience! Can't wait for the next one!!"
"I felt all the bad energy leaving my being and positive energy replacing it . Thank you for the amazing, cleansing sounds and vibrations. I will never forget the experience."
"You were amazing last night… I was so fascinated by the instruments and playing techniques…"
---
Do you suffer from Obstructive Sleep Apnea, or know someone who does? Medical studies in Australia also indicate that playing the didgeridoo may also help reduce asthma symptoms. Or maybe you're interested in the Didgeridoo for making music, meditation, or Sound Healing? 
We offer private lessons by appt. and also Beginning Didgeridoo Workshops, usually twice a month on a weeknight and on a weekend afternoon. November dates are TBA soon. 
The Didgeridude
Steve Sklar shares his experience as a didgeridoo teacher
---
---
Steve Sklar will be a participant and teach a Khoomei (throat-singing) workshop at this exciting event! Highly recommended for anyone interested in the healing and therapeutic aspects of sound: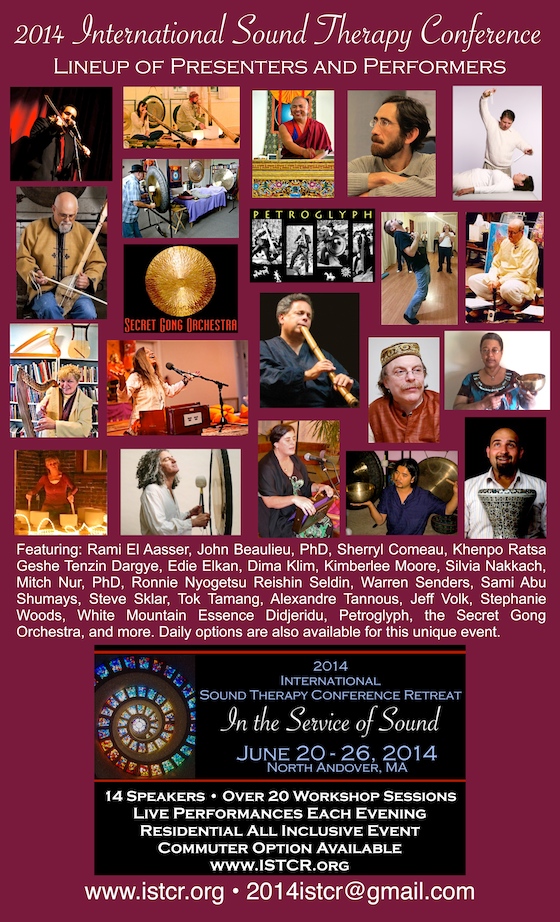 ---
The Minneapolis StarTribune published a feature article about Steve's work teaching didgeridoo to sleep apnea patients, with video:
---
Mission Statement: Our goal is to connect didgeridoo teachers with sleep patients and clinics in a mutually-beneficial relationship. We provide educational resources for patients, clinics, and didgeridoo teachers, and have created a growing 

directory of didgeridoo teachers

, available to the public free of charge.
If you have obstructive sleep apnea or a friend/loved one of someone who does, or a health care provider, please click here.
If you are a didgeridoo player that wants to help others and increase your earnings as a teacher, please click here.